Yan Li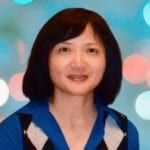 Company: Bayer
Job title: Director, Oncology Biomarker Strategist
Bio:
Dr. Yan Li started her role at Bayer in November 2019 to develop Precision Medicine strategies to support both early and late stage drug development in Oncology.  Since 2016, Yan has led the cancer immunotherapy workstream to innovate biomarker & clinical diagnostic tests and driven the Foundation Medicine R&D collaboration at Genentech.  Two new NGS tests were successfully developed as the results of the collaboration, blood-based tumor mutational burden (bTMB) for enrichment of responders to immune checkpoint blockade, and a clinical-grade RNAseq for gene expression based diagnostic tests.
Yan played significant role to incorporate the new bTMB assay into the BFAST program, the first prospective trial that use only liquid biopsy to select patients.  She also contributed to the Entrectinib program by advocating for accurate fusion calling algorithm and serving on the tumor board.
Prior to Genentech, Yan held roles of increasing responsibility at Roche Molecular Diagnostics where she notably championed the successful launch of the first FDA approved liquid biopsy CDx.  She earned her PhD in Molecular Biology, Biochemistry & Biophysics at the Lineberger Comprehensive Cancer Center at University of North Carolina, Chapel Hill.
Seminars:
Leveraging Liquid Biopsies in Clinical Development Across a Portfolio 2:15 pm
• Finding the specific driver of disease to inform target identification • Overcoming key challenges in translation to clinical trials • Exploring sensitivity levels required for biomarker and analyte types across a portfolioRead more
day: Day One